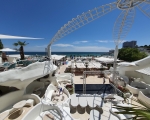 The heat continues, you want to go to the sea more and more, and public beaches are still conditionally closed. Of course, the authorities, the military, the police ask us not to go to the sea, not to visit the beaches, not to swim in the sea, but how to do this if it is +30 outside and summer will end in 2 months, regardless of our human affairs. Therefore, both Odessans and guests of the city go and steal, lie on the beaches and swim - of course there are not many people, but still it is impossible to disperse everyone.
On the other hand, almost all private beaches with swimming pools have opened in the city, there are few guests during the week, but it is quite crowded on weekends. But, firstly, beaches such as Ithaca, Ibiza, Portofino and others cannot accommodate everyone. Well, and secondly, the cost of a deck chair with access to the pool starts on weekdays from 200 UAH in some clubs, in the famous Ibiza in Arcadia - from 300. On weekends, prices fly into near space and start from 400-500 UAH. It is unlikely that everyone can afford it.
The Hawaii waterpark was also opened in Arcadia, on the central alley, didn't interestrd of the price, but at least you can entertain children in the waterpark if you wish. So, despite the war, Odessa is trying to remain a resort. In Arcadia and in the city center, as a whole, almost all restaurants have opened, life is similar to peaceful, minus regular alarms, air defense explosions and missile arrivals. )))
Glory to Ukraine! We are waiting for our victory.
21-06-2022, 11:54