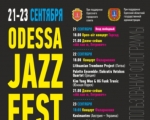 From 21 to 23 September in Odessa, the International Jazz Festival Odessa JazzFest will be held 18 times.
Participants from 10 countries - world-class artists invited with the assistance of embassies and cultural centers of Europe and Asia - will present their author's programs to the Odessa audience at permanent festival venues: in the City Garden (in open-air format) and in the Odessa Philharmonic. In the parallel program of the Festival - lectures, master classes and jam sessions with the participation of the guests of Odessa JazzFest.
The first day - September 21 - is built on the contrast of small and large jazz compositions. The concert opens with a Lithuanian-Ukrainian-Spanish project: two wonderful vocalists, Ukrainian Anastasia Bukina and Spanish-Spaniard Sandra Carillo, will perform together with the sextet # LT100 jazz band, created especially to the day of restoration of Lithuania's independence. The lyric duo Claire Parsons Duo (Luxembourg - Israel) will continue the program of the first day, after which the audience will hear two solo sets: from the Ukrainian performer on the unique for a jazz balalaika Denis Kincheva and from the Czech drummer Pavel Labit. After such a triple portion of chamber sound and solo improvisations, the audience will enjoy the ensemble playing of driving Ukrainians in the Subbotin Band (the leader is the Odessa saxophonist Oleg Subbotin).
On September 22, an impressive Lithuanian Trombone Project with 5 trombonists in the line will take over the musical baton from their fellow countrymen. On the same day, the public will be surprised by the Greek Palette Ensemble / Sokratis Votskos Quartet, whose participants manage to combine northern ECM-minimalism and southern temperament. The program of the second "experimental" day of the festival will complete the exotic sound of the South Korean electro-funky project Kim Yong Woo & HG FunkTronic.
The third day of Odessa JazzFest - September 23 - will be held under the sign of the sacred number "3": three diverse trios will perform on the stage. It is interesting that in the composition of each of them, no matter what country the collective represents, there are Ukrainians. This is also fascinating with its sound palette Austrian project Kusimanten, where the vocal company of ex-Odessa Tamara Lukasheva will be cello and violin. And German Contrast Trio, whose leader is a pianist and native of Ivano-Frankivsk Yuri Sych. And 100% Ukrainian composition of the Alexei Petukhov, whose members will offer the audience a style mix in the format "Classics and Jazz". The ensemble will present the author's reading of the cycle "The Seasons" by P.I. Tchaikovsky.
Traditionally, the festival days end with jam sessions in the club "Ai Lovu yu, Petrovich" with the headliners of the festival.
13-09-2018, 12:40