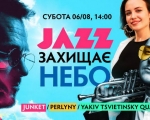 August 6, Saturday at 14:00, Alexander Avenue will turn into New Orleans for three hours

The best jazzmen from all over the country will gather in the center of Odessa at the "Book" market on Aleksandrovsky Prospekt to play hot jazz and raise funds for our defenders.
For you will play:
– Junket (Kyiv). Space-musical jazz-lounge mix of recitative, saxophones, flute, keyboards and electronic manipulations;

– Yakiv Tsvítinsky Quartet (Lvov-Odessa). Favorite melodies of American jazz, decorated with incendiary trumpet solos performed by one of the best trumpeters in Ukraine;

– Perlyny (Odessa) Project "Pearls of Ukrainian Retro Jazz". Musical treasures from the 1930s and contemporary arrangements of folk hits.
We invite all residents of Odessa and guests of the city to enjoy the touching pearls of Ukrainian and American jazz.

Free admission. But donations are very much needed. The meeting point is the "Book" market under the balconies of the jazz club Peron No. 7 (Aleksandrovsky Prospekt, 16). The concert starts at 14.00.

All the money collected during the mini-festival will be directed to the urgent needs of the 14th radio engineering brigade of air defense.
04-08-2022, 09:27